Hiab Webshop is now supporting WALTCO serial numbers (models from 2015 onwards), meaning you can save time on searching replacement parts you are looking for, and be confident that you purchase the part needed for your exact WALTCO liftgate.
Serial number search is the fastest and easiest way to find the OEM WALTCO parts. Use your WALTCO serial number now to check your liftgate's model drawings and find the parts you need. We currently support the following models: WDV and WDVBG, HLF, C and SG, EM and EMTC, GT and GTSL, RGL and RBGL, MDL and MDLBG, MDL/HP, DS, DT, and SB, PTN, and PTGB.
LOCATE WALTCO SERIAL NUMBER
The serial number is a unique identifier of your liftgate that is assigned at the time the gate is manufactured.
You can find the serial number on the machine's printed specification tag, together with the model name, rated capacity, and date of manufacture. The serial number consists of 6 digit numbers (4-5 digit numbers for models manufactured before the year 2000).
The specification tag is located on the passenger side of the liftgate. See examples below.
SPECIFICATION TAG LOCATION FOR WALTCO HLF MODELS

SPECIFICATION TAG LOCATION FOR WALTCO WDV MODELS

For more information on custom-built liftgates please contact your sales representative.
USE SERIAL NUMBER SEARCH BAR
Write down the serial number and enter it in the Serial Number search bar. Hit the return key or press the red button to view the technical drawings for your exact WALTCO liftgate.
If technical drawings are available for your WALTCO model, you'll be able to explore the model drawings of your liftgate. Model drawings are structured by the components of the machine. Find the component title that best fits the category of the part you are looking for.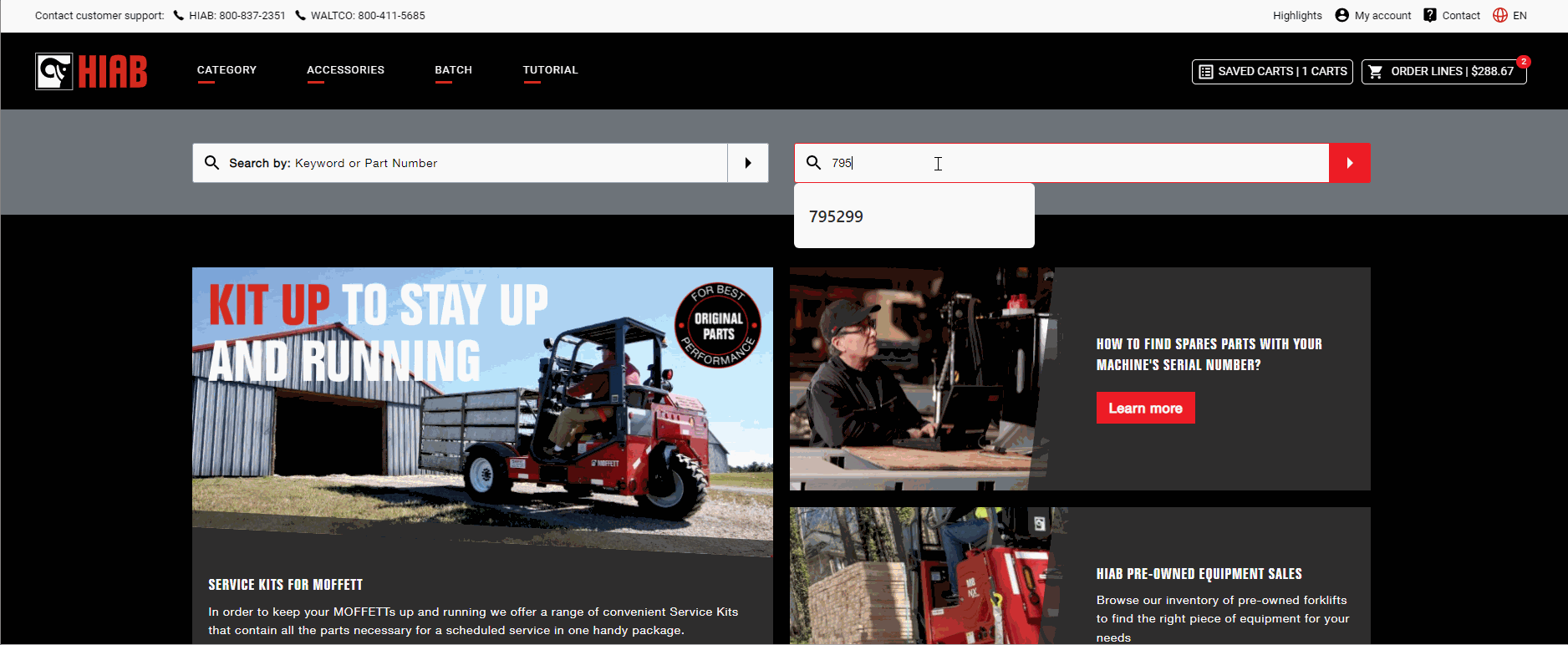 The Hiab Webshop is a secure channel for ordering the original spare parts and accessories for our branded equipment. We offer fast and reliable deliveries globally. Combine your spare part order with excellent load handling equipment service. Ordering products and viewing prices are currently only enabled for logged in users.